Airline chatbot for hassle-free customer service
The AI-powered airline chatbot from VoyagerAid can reliably respond to passenger questions automatically and instantaneously, leaving your support staff free to handle only the most challenging of requests. This will save you a ton of time and money while also delighting your customers.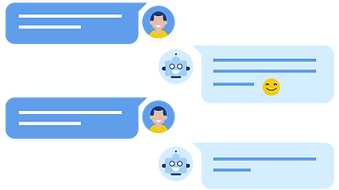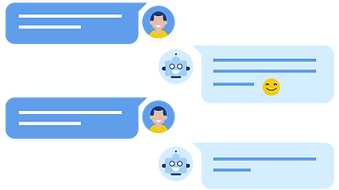 Turn your customer frustration into delight
When a customer calls in with an issue, the last thing he/she wants is to be on hold, waiting for a customer support executive. Most of the support requests are similar, so they can be automatically responded to using the VoyagerAid airline chatbot. Undoubtedly, this will save you money and time. Further, your customer support executives can spend time dealing with only the most challenging of tickets, which will ensure that the passengers get optimal resolutions.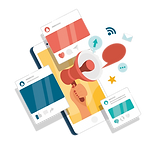 Provide 24x7 support across all channels in a seamless manner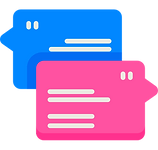 Respond automatically to your customers with the latest info

Scale up your customer service without having to hire more agents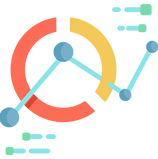 Ensure your agents are hyper-productive without micromanaging
Ask for a free demo and see for yourself the outstanding capabilities of VoyagerAid!
Features of the best-in-class airline chatbot
Without compromise in the quality of the service, airline chatbots can address queries on your customer's favorite platform. Regardless of whether the customer prefers social media, phone, chat, or email, VoyagerAid can provide seamless customer service across all channels.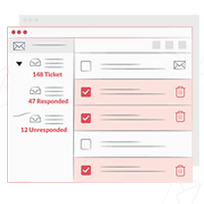 Intelligent management of tickets
VoyagerAid will also help travel companies and airlines to prioritize the incoming tickets regardless of volume automatically. Also, it allows you to categorize and assign tickets to the right department or agent without confusion, ensuring quick and satisfactory issue resolution.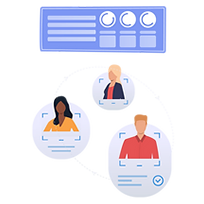 Detection of agent collision
Our solution is further equipped to understand when two agents are resolving or viewing the same ticket, preventing major embarrassment for the company and a waste of time for the passenger. Our system can further reassign the ticket based on priority.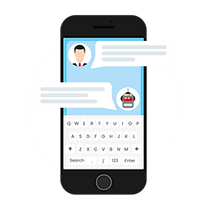 VoyagerAid can instantly send canned messages to customers.Notably, you can respond to a large number of common questions with pre-composed responses without compromising the quality of the responses, which will delight customers.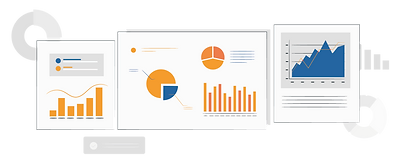 Useful performance insights
VoyagerAid provides you with deep insights into how well your helpdesk and agents are doing. From the interactive dashboard, you can also find the information you want quite easily. Additionally, the reports that are generated can be customized to the requirement of the management.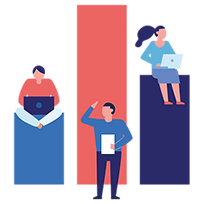 Comprehensive and updated knowledge base
You can reduce the number of customer support calls and emails with a knowledge base that allows your passengers to serve themselves. Another remarkable feature of the knowledge base is that it enables customers to get instant and updated information about your services.
Ask for a free demo and see for yourself the outstanding capabilities of VoyagerAid!
Ultimate benefits of VoyagerAid
Streamlined customer conversations
Thanks to multichannel integration, you can answer all your customer queries in one place now. Because of this, the customer can reach you through the channel of convenience. The omnichannel AI will take care of the issue in no time. For your customer support team, this means less chaos. Undoubtedly, this will boost the airline's bottom line.
You will rarely have a frustrated passenger after implementing VoyagerAid. The smart ticketing system will ensure that the incoming tickets are sent to the right agent for resolution. It also takes care of prioritizing the tickets and promptly resolves them based on how urgent they are.
The AI-based system is also tireless. Round the clock, it can handle customer support requests without any hassle regardless of the volume. This means that the airline can save money by hiring fewer people without any compromise on the quality of customer support that is provided.
Using the AI chatbot, airline customers can take care of actions, such as rebooking or getting a refund, by themselves. This frees up the customer service agents from repetitive tasks and allows them to focus on the more pressing requests.
Even the most trained support professionals can make errors when support request volumes are up. This doesn't occur with our intelligent AI system; it perfectly identifies the issue the customer has brought up and goes on to rectify it. If at all there is any further clarification that the passenger needs, the system will direct the conversation to a human agent.
Rein in the chaos of agent collision
When two or more agents mistakenly work on the same ticket, it leads to major confusion. Also, it makes the airline look unprofessional in front of the passenger. Avoid all this with the advanced system that checks in real-time if a ticket is being handled by more than one agent. Consequently, the agents have more time on their hands to deal with challenging tickets, and the airline can save its reputation.
Want to elevate our customer service?
Take a peek at what VoyagerAid airline chatbot can do for you!
Frequently asked questions